Best Beach Blankets 2020: Beach blankets are the perfect companion, beach enthusiasts can have. Away from all the troubles and stress, a regular routine brings on, people escape to the oceans and seek comforts in the deadly yet beautiful and fascinating waves. There are numerous activities which can be done in the water and people are absolutely crazy to try them all. But, a lot more time is spent on the sands relaxing by the people. Lying down on a blanket and enjoying the scenic view and every fascinating thing nature beholds has a different way of soothing down people's soul.
Most people use regular towels or blankets when they hit the sands. If you ever did that, you will know the struggle is real and it is absolutely frustrating to use a regular blanket on beaches. How can you expect the experience to be the same if the surface is just the opposite? A blanket designed specifically for beach purpose is what you are in need of. Beaches have various needs and to fulfill them and have a splendid vacation, you need the assistance of the advanced technology. The reason for this assistance is generally prevention from either sand, or the water, or even to put on all the items you possess with you at the beach.
There are a number of features you ought to look out for or else, the blanket is capable enough to actually ruin your day and limits your time at the beach. Work done easy, we have come up with 10 best beach blankets which are sure to serve you the best. Make sure you make the right choice after weighing in all the products and the features they are built with.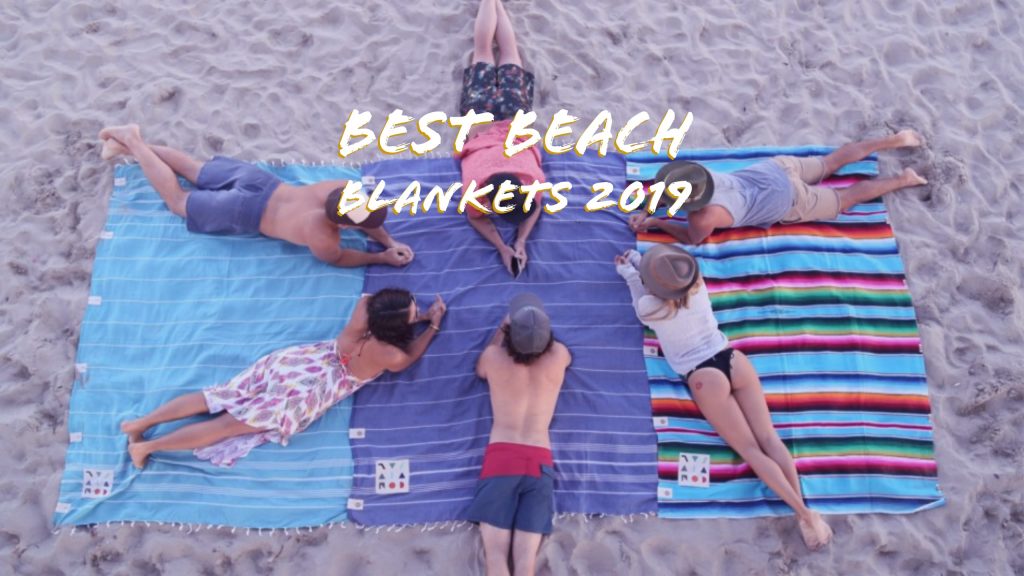 Top 10 Best Beach Blankets of 2020 to Feel Cozy
Listed below, are some of the more popular online choices for best beach blankets. All are suited for excessive use cases and a host of the other features to have a cozy sleep near a beach.
#1 WELLAX Sandfree Beach Blanket
This blanket can easily give more room for up to 7 people which means it is actually huge. This blanket can be used for various purposes other than beach such as, festivals, camping, picnic etc. the dimensions are 9' X 10', which is around 40% larger than a custom and average beach blanket. Comes along, a travel pouch which facilitates easy travelling because it folds to a compact one. It uses 4 anchors to stay put and is extremely tolerable of winds.
This product is your suitable companion when you travel in groups to enjoy the super and cosy vibes of the beach. It is travelling compact and also is highly water and heat resistance. Carry this blanket with you to every place you visit and every activity you do. This blanket is indeed a get pick.
#2 Sand Escape Beach Blanket ByWildHorn Outfitters
This blanket can also be referred to as an oversized beach blanket as it is really a huge blanket. It is suitable for family reunions and also people who have more family members. It is the best pick from all the oversized blankets available in the market. Yes, it is huge but, at the same time is easy to carry and you won't be able to agree more if you ever use it. It comes with a carry sack which has additional compensation straps which facilitate extreme squeezing of the product.
The compression straps will literally squeeze the blanket into the smallest blanket you can buy. The blanket has a high tolerance in terms of wetness as it dries off quickly. It is made up of parachute nylon which is extremely, strong, durable, lightweight and quick drying integrated system. This blanket comes with an additional 4 sand pockets, which is meant to be filled with sand to keep the blanket in place. Another pocket which the company provides is to safeguard all the things you carry with yourself. Another small size pocket in the front is meant for all your small belongings.
A product which is a massive and great beach blanket and also is great for other outdoor activities such as soccer, camping, picnic etc. Do not forget to travel with this product wherever, whenever you go. It is sure to keep you clean and dry, baring you from sitting on a dirty and wet surface area. Though huge, the blanket has all the features which would keep it in place and provide you with a great experience.
#3 Oversized Nylon Outdoor Beach Blanket with 4 Stakes By FYLINA
Another oversized beach blanket which has a dimension of 7*9 feet. To sum it up, this blanket is actually 20% larger than any regular stand sized beach blankets. The size is enough for you to entirely fit in it, which prevents the exposed parts of your body from sand burns. The size helps you to simultaneously set a larger camp which would fit in more people. The material used to make this product is a premium graded parachute material, which prevents the blanket from getting ripped.
This blanket is actually sand resistant and hence it prevents deposits of sands. It is also water resistant, heat resistant, and grass resistant and on an additional front, it is kid's proof. It comes with anchors and spikes which help the blanket to easily settle down on the sand. 4 additional pockets to be filled with sand to prevent it from getting blown away. It also comes with a carry pouch to keep all your belonging in one place. You can easily carry it on your shoulder as you don't have to drag it.
A must buy if you have kids in your family. This product is actually kids-proof which is why it is the best for families having people of all age groups. It comes with a great option of anchors and 4 pockets to help keep the blanket in place which is must for large blankets. The carry pouch is also the attraction and so is the fact that it is highly resistant from water, heat, sand and grass.
#4 Sand Free Compact Outdoor Beach Blanket By Live Infinitely
This blanket can be referred to a top rated sand repellent beach blanket. The material which makes up this blanket is 210T Ripstop Nylon. This material is highly sand, water and heat resistant. This facilitates easy tanning from the sun, while your body stays away from the sand's heat when you are lying on the sand. All the sand won't get collected onto the blanket either; the sand which manages to stay can be brushed off easily. The material is soft and machine washable. With dimensions of 9 by 10 feet, it has enough room for 7 individual to be seated. It has 4 arrow loops and 5 sand pockets to help keep it in place. It can be easily folded and stored and has a pouch to store all the belongings.
This blanket is highly resistant and so, your body will not be troubled by the heat of the sand when you are lying on the beach enjoying nature and relaxing. It is sand resistant and is enough for 7 adults. The best part about this product is the warranty of 1 year, so you need not worry about it coz the company got your back.
#5 Extra Large Picnic & Outdoor Blanket Dual Layers for Outdoor Water
This blanket is best in terms of keeping you all dry and warm while you are at the beach. The design and material of this blanket are made to keep it lightweight. The material makes the blanket waterproof, durable, sand-resistant and it is difficult to actually tear this blanket apart. The fabric is 100% fleece which is one of the best and can be washed in a machine. Comes along a carry strap which makes it easy for the user to carry it like a bag, as the blanket can be folded into a compact size.
Great choice if you wish to get noticed by a bunch of people. This blanket is extremely comfy to use and lay on which makes it a great pick. The material can get you all dried up and can dry itself if placed over hot sand. The most favourable blanket for one person, or even two. Measures 5 feet and gets along any place you carry it to and has diverse functions.
#6 Outdoor Waterproof Beach Blanket By Songmics
This company has managed to produce great big beach blankets and so is this product one of them. This blanket is actually waterproof and is super comfortable. This is a layered blanket with outer material made up of fleece and has foam stuffed inside. This is not usually found in other blankets which makes you spend more time on it irrespective of the place. This blanket has enough room for 2 people to lie down on or 4 people to be seated on. The color it comes in is an add-on and has straps which make carrying and storing easy.
A great blanket which has a great lounging facility and the foam makes you want to rest on it even though you are not at a beach. Comes in a wide combination of colors and is extremely comfortable as a result of the foam present in it. Also, is easy to carry and store.
#7 Sand-Free Blanket Multimat By CGear
This blanket has the perfect beach blanket design. To boast about, this is used as a helipad, helicopters land on. This blanket has 2 layers made entirely of polyurethane. This blanket is tightly woven and has UV stabilized, safeguarding the colors of it no matter how exposed to the sun. This blanket is overly durable and can hold even furniture on top of it. This blanket has sizes of small, medium and large available. The large can seat up to 14 people, which is the highest capacity among all the other beach blankets. It is super easy to clean.
A beach blanket which is also a great camping gear is yet another great option you can go for. The durability is the highest factor you would want to choose this blanket for. It also comes in all sizes and so, choose the one according to your family size. So, this blanket is easy to maintain. A great deal it is, if summed up.
#8 Next Gen Parachute Beach Blanket By Kahuna
The dimensions of this blanket are 8 by 8 feet which is a large size and is enough for 4 people. The material, this blanket is made up of is the same as a parachute and so is extremely lightweight, strong and portable. Perfect for many places and comes along sand pockets and ground stakes which hold the blanket onto the ground. Has additional zipped pockets for the safety of belongings.
A product compatible for every place including picnics, festival, or even yoga, meets all the requirements. Another great option for the replacement warranty the product comes with. A product from a reputed company is actually a guarantee in itself.
#9 FunN'Sun Beach Towel By SportLite
This product is made up of 100% microfiber which is all set to dry up easily and perfect for a beach environment. This blanket as well comes with pockets to help it stay put. The material is super soft, ultra-absorbent and doesn't let sand gather. If wet, it can be dried by hanging it over through the sewn hanging loop. It is of compact size and is machine washable. Also, it is ideal for camping and backpacking.
A beach towel ideal for travelling is another good option you can select from. The material this blanket is made up of dried easily and it also comes with sand pockets. Doesn't let the sand gather and is super comfortable. It is machine washable and great for various other outdoor activities.
#10 Mega Sand Proof Beach Blanket - XXL By Easy Snorkel
Another huge sand-free blanket which is XXL sized and though so big, the compact folded size will take you by surprise. Great if you are out for a family vacation as it comes with a pouch to store all the valuables. The material, this blanket uses is nylon parachute material which is highly durable and easy to clean. The sand can be easily shaken off the blanket after use and the blanket has 5 sand pockets to keep the blanket in place. It has a seating capacity of 12 and lying capacity of 7 adults.
A great XXL sand free blanket is yet another great option for you. It is huge but compact at the same time. The material is sand resistant and dries up quickly, is also rip resistant, lightweight and breathable. It weighs 16 ounces and is great for family outings. Durability and maintenance are the best part which makes this blanket another great option.
Best Beach Blankets 2020 Buying Guide (Things to Consider)
If you still have confusion regarding the features you need to look out for, or if you simply are a newbie, wanting to experience the new beach life and want to hit the beach all geared up; here is a basic guide for you. This guide comprises up of all the items you need to take into account while selecting the appropriate beach blanket for you. Make sure all the factors are duly noted, if you wish to get the best of experience and don't wish to encounter any obstacles, through the day at the beach.
What's the Need for Best Beach Blankets in 2020
Durability is what makes beach blankets stand out of the crowd. Beach blankets preferred over ordinary blanket give you a much more splendid summer beach experience because they have a much more tolerable level as compared to a normal home blanket.
The second reason is the cleaning process. Maintaining and cleaning beach blankets is absolutely easy. The sand can be simply shaken off a beach blanket while getting rid of sand from a normal blanket is a new challenge.
These blankets are huge and enough for a family of 4 and some 2 but are absolutely easy to fold. They can be compressed into a compact size and are absolutely easy to carry as they are light in weight.
Lastly, they are soothing to look at, stylish and appealing people's personality and at the same time, are extremely affordable to buy. A cheaper product with lots of included features results as a must buy.
Who Should Use Beach Blankets in 2020
Beach blankets can be used by anybody who likes spending quality time outdoors. Beaches are the best places where these blankets come handy, though they can be used for a number of outdoor activities too. The challenges beaches throw are what these blankets are capable of withholding. They are made for the beaches and are a must buy product for people who love spending a lot of time at the beach. Makes sure you include a beach blanket to the list of things you carry to beaches with you because a new great experience is on the way for you.
Don't forget to check out our article on best bushcraft knives that you may think of carrying with you while going to your next hiking in the wild.
Final Verdict
Normal blankets simply are not meant for beach purpose. The sand, the wetness and literally everything which is present on the beach a normal blanket is not capable enough to take in. Need for a specifically designed blanket is a must which will be strong enough to bear all the external force which might come in contact with it. It is the best of an individual's interest if he or she chooses to opt for best beach blankets 2020. The uses are vast and the price is low. Yes, a beach blanket can also be used for various other purposes including, picnic, travel and camping. Make the most out of one blanket and all the money you spend will be worth it.