Best Hunting Spears 2020: If we need to taste the adrenaline rush of wild adventure while searching for a prey with a spear in hand then brainstorming is must to purchase a top-rated best hunting spears as maximum of us are not aware of the basic features and points to check.
One of the earliest forms of killing prey for humans, hunting, were done with a spear. That included hunting down all kinds of animals including fishing.
Let it be spear hunting or spear fishing, they still continue to this day as both a means of catching food and as a cultural activity. Hunting Spears have come a long way.
In a Hurry
If you are in hurry and don't have time to go through the best hunting spears 2020 that are reviewed here, then you can directly check Reapr 11003 spear in the case. This is the best in our list.
Best Hunting Spears- The Evolution
Once upon a time, spears as we know them today were just sharpened stones that were tied to sticks made out of wood using nothing but ropes. They have progressed as far as being made out of molten metal blades being welded then bolted to strong metallic shafts. Coming down the history line to the modern era we are going through right now.
The same hunting spears that were made out of stone have become perfected through periods of evolution. They are very common to find and extremely easy to use than they were centuries ago.
The following is a list containing some of the best hunting spears of 2020 you can find in the market today:
TOP PICK
This spear can be used for hunting, survival and other tactical practices. The spearhead on this spear is made out of 2Cr13 steel.
CHECK PRICE
Don't get confused by the name, Cold Steel is the name of the manufacturer of this hunting spear. It is a boar spear type of the spear.
The boar hunting spears have always been the choice of many hunters throughout the history as hunters trudged through dark forests hunting their prey. This is one of the best hunting spears of 2020, and it is like any boar spear in general that has distinctive wide leaf shaped blade and dual cutting edges.
Highlighting Points
This hunting spear is cold forged out of medium carbon SK-5 steel and heat treated to a spring temper.
Having an overall length of 82 1/8 inches where the blade makes up of 18.5 inches while the handle makes the rest of this hunting spear.
The thickness of the blade on this spear is 3/32 inches and last but not the least the sheath that arrives with this spear is the well-known secure ex.
This maintains your safety from the spear in case something was to happen when it's hanging out around your house and not being used in hunting.
The handles on these best hunting spears are made of Premium American Ash Shaft.
Blade made out of SK-5 Medium Carbon.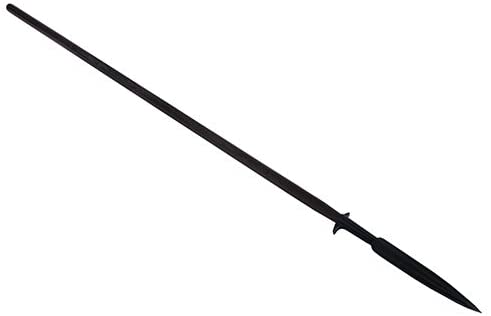 Verdict: This hunting spear is extremely well designed with a thick blade and a sturdy heavyweight American Ash. What's best is the fact it does its job very smoothly so what is stopping you buying it.
The next spear in the list of the best hunting spears is the African Congo spear by the manufacturer known as Condor. This hunting spear is 64 inches in length while the blade on this spear is 10 inches long.
The blade is made out of 1045 high carbon steel but that's not all. This spearhead is heat treated 40-45 on a Rockwell C scale and it is coated in a Condor natural finish that makes the blade look bare.
And guess what, this bare look of the spearhead is very appealing to the eye. Burnt American Ash is what is used on the spear to manufacture its handle. Along with the fact that it makes the handle very strong, it gives the handle a certain look.
Highlighting Points 
Antique Look: This makes the viewer or the user get a very antique ancient vibe from the spear when viewing it.
Now obviously every blade requires a sheath. Well, this gorgeous spear comes in a sheath that is made out of leather that is hand crafted along with the fact that it is extremely high quality and heavy duty.
Added grip in the middle of the spear for better handling.
Bare Metal look: The spear has a very traditional look.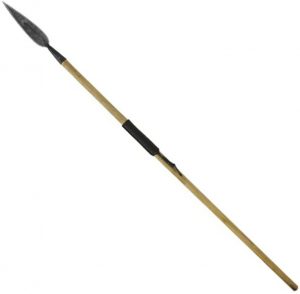 Verdict: The African Congo spear brags an antique look, packs a sharp blade but if you look at its overall performance, there are better spears you can buy.
The next in this list of the best hunting spears is the Samburu spear from the well-known manufacturer Cold Steel. The name of this hunting spear comes from the Kenyan tribe who are known as the tribe of Samburu. The Samburu warriors use hunting spears on their expeditions as they go out to hunt animals as well as bandits with firearms who come to destroy their peace.
The Samburu spear is a seven foot long throwing spear that is the most advanced spear of its type to exist on the planet earth itself. The Samburu spear is a spear with a very slim shaft that is made out of thick steel. Then comes the handle of the spear.
Highlighting Points
The handle is made out of U.S. made hickory that features a taper that connects the head and the shoe.
What is this shoe you may ask? The shoe is counter balancing spike located on the spear between the spearhead and the metallic shaft of the spear.
As always, this spear also comes with a sheath. This spear uses a Secure-Ex sheath to hide away the blade for safety.
Alternative throwables known as shoe.
Handle made out of hardwood.
Can be disassembled for portability.

Verdict: Although better than the previous African Congo spear, this spear isn't exactly the ideal spear you would like to buy if you are going hunting. But if you're just a collector, this spear is magnificent in its looks and a must buy to brag about.
Just like the Samburu tribesmen using the Samburu spear for hunting and protection, the next product on the list of best hunting spears 2020 is the Maasai hunting spear from the Kenyan tribe of Maasai. This spear has an overall length of 72 inches.
Highlighting Points
This spear has its shaft made out of wood. The end of the shaft where the thrower grips the spear is made out of metal.
The spearhead on this spear is also made out of metal.
Both sides of the spear can be used as spearheads.
The spear has a wooden sheath.

Verdict: This spear is quite possibly the least good out of all of the hunting spears mentioned in this list but this is indeed a list mentioning only the best.
Black Ronin Tri-Edged Spear head, while not exactly a complete spear but a spear head is the next item on this list. The Tri Edged spearhead as the name suggests is a totally black very sleek looking spear head that has not two but three edges to it.
This spear head can turn out to be a very handy tool that you can carry with you on your expeditions.
Highlighting Points
This open-design spear head has a solid stainless steel construction with a black oxide coating and a penetrating point. That's why we have considered it as one of the best hunting spears of 2020 for sure.
Moreover, the handle end is wrapped in nylon cord making it easy to be lashed in securely to any sort of poles or sturdy surfaces.
Triple edged spearheads.
Nylon wrapped handles.
But that is not all; the spearhead comes along with a nylon belt that is lightweight and able to carry the spearheads in.
These spearheads have a length of 09 inches and are made out of stainless steel.
But the manufacturers did not just leave them at that, these spearheads are coated with black oxide coating to give them more of an edge.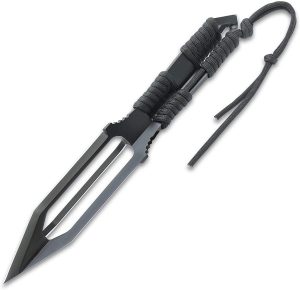 Verdict: The tri edge packs a brutal punch when it comes to penetration of subjects shot at.
Since these are just spearheads and not actual spears, you can still carry multiple of them with you in case one of your best hunting spears breaks its spearheads, you can always use the tri edged spear on it.
These spear heads are unmatched in their beauty hence one can also buy these as a collector item
Another product by the famous manufacturer of strongest and the sharpest knives called Cold Steel next up on the list of best hunting spears.
This spear is called the 95EDS and sports a sleek shiny black body. This hunting spear is another one of the boar spear types.
Highlighting Points
Standing at the length of 30 inches tall, this Cold Steel hunting Spear head is made to be attached to a wooden shaft.
It is equipped with a double-edged black tip which is extremely sharp.
After all, cold steel makes the strongest blades in the world, this blade is designed to penetrate deep into the recipient of its blade and make for a humane kill.
Blade has a double edged blade tip.
The shaft connector has a smooth grip.

Verdict: Another of the spearheads on the list, since it is by the manufacturer cold steel, it's quality and durability are guaranteed factors. If you are going on a serious hunting trip, these spearheads are a must buy.
Here we are at the final item on the list regarding best hunting spears and this hunting spear is the Reapr 11003. Manufactured by the manufacturer Sheffield and having a weight of just 11.2 ounces.This spear is the ultimate spear among the class of tactical spears.
The overall length of this spear is 44 inches wherein, aside from the blade being 8 inches long. The handle is 36 inches long. The handle on this spear is no ordinary handle as it is a rugged nylon-fiberglass handle. Along with being a nylon-fiberglass handle, the grip is then reinforced again with TPR hi-grip which provides the thrower with a large boost in their comfort and precision.
Highlighting Points
This spear can be used for hunting, survival and other tactical practices.
The spearhead on this spear is made out of 2Cr13 steel. Along with being made out of 2Cr13 steel, this blade is coated with black oxide. Thus it is one of the best hunting spears that you buy in 2020.
The blade is designed to be double edged for easier penetration of the subjects it is thrown into.
 Moreover, the oxide layer coating on the blade prevents the blade from rusting and makes it very easy to clean off any rust that does get on it.

Verdict: Another of the spearheads on the list, since it is by the manufacturer cold steel, its quality and durability are guaranteed factors. If you are going on a serious hunting trip, these spearheads are a must buy.
🏅FAQs About the Best Hunting Spears
Q: Do people still hunt with spears?
The most common question about hunting. The answer to that is yes, people still do hunting today. Hunting can be done for two reasons really, either you are hungry and need food so you decide to take up your spear and go out looking for elk or deer or whatever you can eat to put your spear through.
The other reason for hunting is usually the hunter's love for the sport.Perhaps hunting brings the hunter a sense of joy doing this.
Thrill of the hunt as it is called is no myth. Even though you can just drive to your neighborhood's McDonalds and get a beef burger. Some people just like going after it themselves with a spear in their hand.
While trudging through the mountainous terrain looking for something to have a go at, the exhilaration they feel just makes hunting worth it for them so in short. Yes hunting does still exist like it used to many many years ago.
Q: Is it illegal to own a hunting spear?
Carrying a spear on you is it legal or illegal. That depends on the state you are in.
For example if you look at Arizona, it is totally legal to carry any one of the best hunting spears or even a bushcraft knife or basically any weapon as long as you don't decide to wave it around in the air and keep it sheathed. If you run into someone from the authority, sure they may as you some questions regarding it obviously but all things considered it is legal to carry a spear on you in the state of Arizona.
However, if you are in a state such as Texas or California, you would get charged for having a spear on you unless you were on private property or had a permit so it's best to get information about the place you live in to make sure you don't get in trouble later on for carrying a spear on you.
Q: What can you hunt with the best hunting spears?
There are a couple of animals that you can easily hunt with a spear, given the hunter is experienced.
Those couple of animals would include any animals that are found in the wild. Let's take deer for example.
Deer hunting is an old traditional practice.
Another animal you could hunt with the best hunting spears is a hog. The rest of the supposed animals include moose, elk, caribou, and several species of deer.
Pronghorn, Bison, musk ox, feral cattle. Polar, brown, and black bear. Last but not least feral hogs as mentioned already and javalina. But hey land is not the only place you can hunt with a spear.
Spear fishing has always been a very popular thing and still is now. You can use your spear to catch fish by stabbing them with the spear through the water!
In this article the best hunting spears have been compared to other hunting spears that have been described in detail.
This article is provided with an in-depth knowledge about different products that are available on the market according to their reliability, durability, and part replaceability.
The pros/cons and features have likewise been deduced in this article as indicated by the clients who have had real encounters with the product, hence making it simple for you to pick the best item and keep on the passion of hunting using spears set ablaze in you.